En marzo, Trump sacudió el tablero comercial mundial al imponer aranceles del 25% al acero y del 10% al aluminio.
Además de exigir a China que se equilibre la balanza comercial entre ambos países, el presidente de EEUU ha recurrido al artículo 301 de la Ley de Comercio Exterior estadounidense de 1974 para investigar el presunto robo por parte de China de propiedad intelectual estadounidense y la transferencia forzada de tecnología.
Esta operación se produce apenas un día después de que el presidente estadounidense, Donald Trump, abriera una guerra comercial con Pekín al firmar un memorando presidencial que impone aranceles a la importación de varios productos chinos.
Al día siguiente, China replicó revelando una lista de 128 productos estadounidenses a los que impondrá derechos de aduana de entre 15% y 25% en caso de que fracasen las negociaciones entre los dos países.
"Esta es una táctica inicial de China, que indica que la medida de Estados Unidos provocará lo que Beijing considera como una represalia proporcional", dijo Eswar Prasad, exjefe de la división de China del Fondo Monetario Internacional.
"Esto no augura nada bueno, penalizará la economía de los dos países", dijo a la AFP.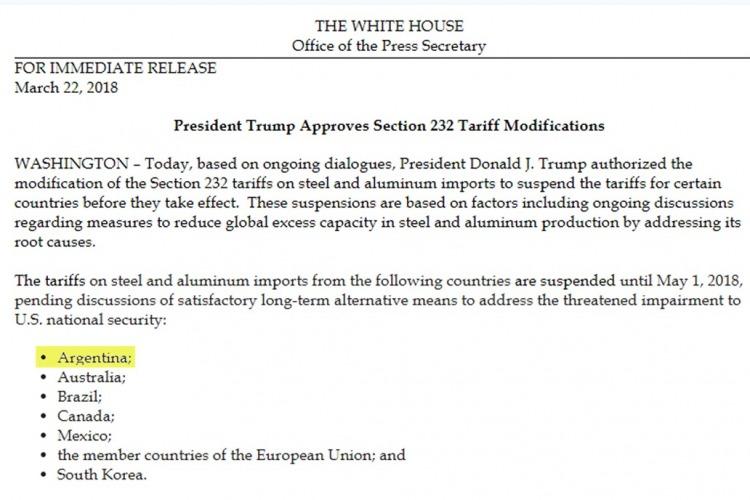 El viceprimer ministro chino, Liu He, mantuvo una conversación telefónica con el secretario del Tesoro de Estados Unidos, Steven Mnuchin, en la que le instó a realizar esfuerzos coordinados para mantener la estabilidad de los lazos comerciales de China y Estados Unidos.
El Ministerio de Defensa chino dijo este sábado que la entrada de un buque de guerra estadounidense en las aguas del Mar del Sur de China es una "seria provocación política y militar", y exigió a Estados Unidos que respete la seguridad y soberanía de China.
"Celebramos y agradecemos la rápida y efectiva gestión del gobierno nacional con la administración de Estados Unidos, que logró una suspensión temporal hasta el 1° de mayo a la aplicación de aranceles a las importaciones de acero argentino que ingresen a dicho país", señaló la Cámara Argentina del Acero a través de un comunicado de prensa.
Un nuevo paso que alienta temores de una guerra comercial.
Como presidente del Gfsec en 2018, Argentina "lidera un ambicioso programa de trabajo destinado a que los miembros adopten medidas concretas y rápidas para eliminar los subsidios y otras medidas de apoyo estatal que distorsionan el mercado y que contribuyen al exceso de capacidad", concluyó la carta enviada al gobierno estadounidense, según transmitió la Cancillería.
India, Pak can talk to resolve issues: Envoy
He underlined, what he called, the importance of Pakistan's vision of "peaceful neighbourhood". Sohail Mehmood was called back to the Islamabad Foreign Ministry for consultations last week.