At least 183 protesters have been arrested so far while 80 have been confirmed injured, including members of the French security forces.
French President Emmanuel Macron led a crisis meeting on Sunday after a day of riots in Paris by anti-government protesters left hundreds injured and caused widespread destruction across the capital.
Dark plumes of smoke in several parts of Paris, however, were testament to the escalation in violence, to the consternation of numerous "yellow vests", so-called for the high-visibility jackets they wear.
Demonstrators clash with riot police at the Arc de Triomphe during a protest of Yellow vests against rising oil prices and living costs, on December 1, 2018 in Paris.
French President Emmanuel Macron was holding an emergency meeting on security later Sunday with his prime minister and interior minister.
Arriving back from the G20 summit in Argentina, Macron rushed to the Arc de Triomphe, a revered monument and epicenter of Saturday's clashes, where protesters had scrawled "Macron resign" and "The yellow vests will triumph".
Violent protesters occupied the centre of Paris yesterday and torched cars, smashed windows with clubs and axes and clashed with riot police firing tear gas and water cannon on the Champs-Elysees, in France's worst urban rioting in more than a decade.
So far, at least two people have been killed and 890 people, including 158 security forces, injured, 1,081 detained, and nine protesters sentenced to four months in jail during the ongoing demonstrations since November 17.
Demonstrators, some wielding slingshots, threw rocks, construction barricades and even paint at police in protective gear and helmets, with some officers seen spattered with yellow liquid.
A demonstrator watches a burning auto near the Champs-Elysees avenue during a demonstration Saturday, Dec.1, 2018 in Paris.
The violence is Macron's biggest challenge so far as president, and even colored his worldwide image as he had to defend his plans for fuel tax rises - the initial impetus for the protest movement - to other leaders at the G-20 summit. The scene in Paris contrasted sharply with protests elsewhere in France on Saturday that were mostly peaceful.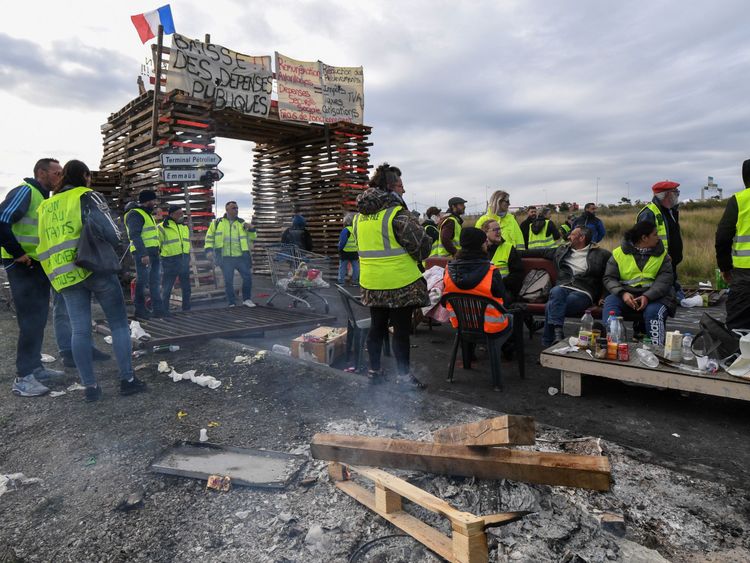 Image 'Yellow vest' protesters have also been blocking fuel depots
Central Paris was locked down Saturday afternoon, with all roads leading away from the Arc de Triomphe closed off as more police moved in.
Officials estimated that 75,000 people took part in action across the country, with a local prosecutor confirming that one driver died on Sunday in Arles, in the south of France, after an accident at a roadblock set up by protesters on Saturday.
Many protesters are angry with Macron for extending the environmental policies that were first implemented by former President François Hollande.
Dubbed the Yellow Vest movement, the protests have been occurring weekly since November 17 and get their name from the fluorescent jackets French motorists are required to keep in their vehicle in case of emergencies.
"You always have some idiots who come to fight, but they don't represent us at all", he said.
Grafitti also marred the Arc de Triomphe, after protesters climbed to the top of the famed archway. "People work and pay a lot of taxes and we are fed up", said Rabah Mendez, a protester who came from a southern suburb to march peacefully in Paris.
It poses the most formidable challenge yet to Macron's presidency, with the escalating violence and depth of public anger against his economic reforms catching the 40-year-old leader off-guard and battling to regain control.
Some 5,000 officers have been mobilised and were carrying out ID checks and searches for people hoping to reach the Champs Elysees. According to The New York Times demonstrators say the French government "talks about the end of the world while we are talking about the end of the month".
So, how can Macron calm the rising anger?
So too did Jean-Luc Melenchon, head of hard-left party La France Insoumise (France Unbowed) and far-right leader Marine Le Pen, who demanded the government unwind its fuel tax hikes.
Stefan Kramer cumplió con deslumbrante rutina en la Teletón 2018
Imitando a Luis Miguel, Julián Elfenbein y presidente Sebastián Piñera, el gran Stefan Kramer volvió a demostrar por qué es el mejor imitador de nuestro país .